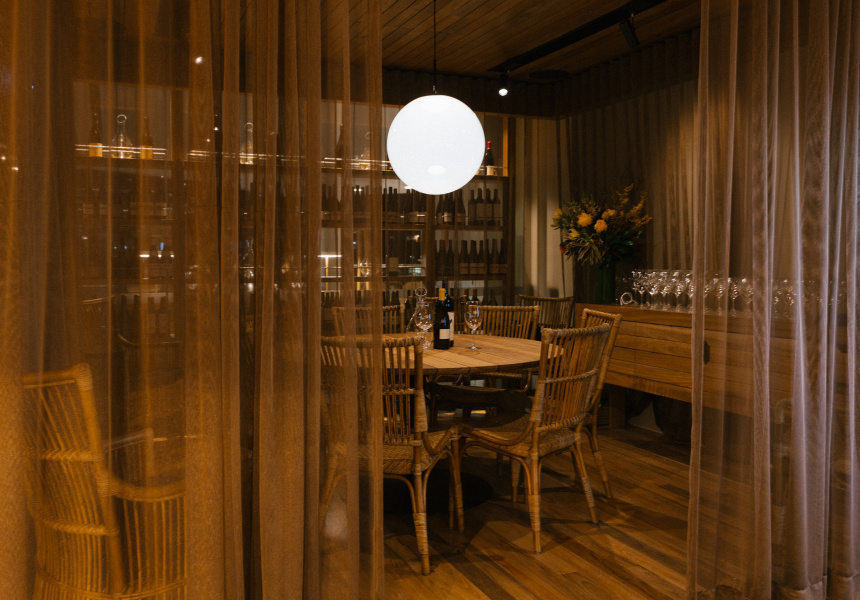 Andrew Baturo and Team Naga Thai's Fine Seafood Restaurant Opens in Prime Riverside Location
There are no great things in restaurants. Only small things. Hundreds and hundreds of little things.
Take this order. Remember those diets. Set cutlery. Arrange drinks (salty rim for Tommy's, please). Come back after sector.
Don't spoil the steaks. Don't forget to bring the sommelier. What table did the Trimbach have, again? Wait, have you talked to the diet chief?
That's it, again and again. Miss just one of these things – one of these exquisite little things – and a good night can quickly turn into a disaster.
This also applies to restaurant design. Andrew Baturo stands in his new riverside restaurant, Tillerman, three days from opening, playing obsessively with the lighting.
"Everyone who walks through that door has a different volume level that they like, a different style of music that they like, lighting levels that they like, what they like about their drink, how they like a formatted menu ," says Baturo. "Just having a place that 90% of people like is absolute success, when you think about it."
The fact that Baturo understands this so well is invariably what makes his places – Walter's Steakhouse, Popolo, The Gresham, Libertine and the recently closed Naga Thai – so consistently good.
Yet these lights. You understand why he wants to do them well. The Hogg & Lamb-designed Tillerman is a knockout – all speckled gumwood with handsome rounded joinery – but it really comes into its own when, at night, the dimmers are set to minimum and interacting with a wall floor-to-ceiling mirrored rear begins. It's a twist on a trick successfully deployed by Hogg & Lamb at Butler, the Moon team's South Brisbane wine bar, which opened in Fish Lane in July.
Tillerman is the first restaurant since Libertine that Baturo has built himself from head to toe (Walter's, Popolo and The Gresham are co-owned by Paul Piticco and Denis Sheahan; Naga, which he co-owned with partner Jaimee Baturo, was always envisioned as a pop-up in the former Pony Dining space).
"It was a full shell, back to concrete walls and floors," says Baturo. "We had a free space to work."
The 120-seat Tillerman occupies the rental of Riparian Plaza which previously housed Kingsleys Steakhouse. It inherited this place's prized beachfront position, but that's where the similarities end. Just about everything is adorned with this mottled gum, the treatment broken up by tanned leather, botanical-print cushions and rattan furniture, and illuminated arched features and globe pendant lights at night. It's meant to wow without taking away from the priceless views of the river and Story Bridge outside.
"I didn't want it to be over-engineered," says Baturo. "It's key to dining by the water or by the sea, because how can you compete with what we envision?
"There is something very meditative about the river. Sitting outside now: it's really busy inside there. But it's quiet here. I love this dichotomy.
The food matches the location, with former Naga Thai chef Suwisa Phoonsang (more or less the entire Naga team came from Eagle Street Pier to outfit the new restaurant) taking international inspiration for her menu at seafood base. Small dishes include Fremantle octopus carpaccio, Ora King dried salmon and hiramasa kingfish with pancakes and citrus white butter sauce. Larger plates include a wok of fried Balmain bugs with garlic and prickly ash, an oven-roasted dark flathead with burnt orange ghee and fried capers, and salt-baked Murray cod with a salmoriglio vinaigrette.
Away from seafood, there's a 700-gram, 5-point, pure-blood Wagyu flank with suet vinegar and beef jus; barbecued Brisbane Valley quail with sofrito and candied lemon; and a chicken roulade with Roquefort, truffle, mushroom duxelles, pistachio and sugar loaf.
For drinks, a 150-bottle wine list isn't dogmatic about any particular region, but prioritizes coastal vineyards based on seafood. A generous selection of wines by the glass includes plenty of Coravin pours. Elsewhere, there's a long list of signature cocktails and a sophisticated sherry program.
Baturo has already spoken to Large format of his desire with Tillerman to create a place that will exist for 30 years, echoing restaurants like Il Centro or Cha Cha Char that inspired him when he was taking his first steps in the hotel industry. But these legendary places are now gone. How do you create longevity in a culinary scene where everything seems to be driven towards the middle of the market? The answer, he says, is always the same.
"It's not about being fashionable. It's about being trendless," says Baturo. "You stay on course, and that's what will create a love affair with your room. It's a very difficult thing to do, when everything around you is changing and a lot is going on. But stay on your way. It's really important.
Tillerman
71 Eagle Street, Brisbane
(07) 3071 9142
Hours:
Tuesday to Saturday from 11:30 a.m. to late
tallerman.com.au