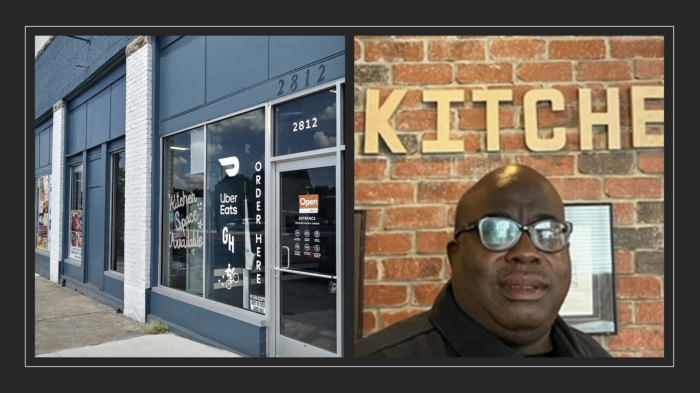 Delivery-focused breakfast restaurant moves from Regency to Scott's Addition
After a short stint in Regency, a delivery-focused breakfast has resurfaced in the city.
AM Kitchen Co. opened in late August inside the local outpost of ghost kitchen chain CloudKitchens at 2812 W. Broad St. on the southern tip of Scott's Addition.
AM Kitchen Co. is fashioning itself a kind of food hall based on delivery, with food from six in-house restaurant brands, including Da Best Damn Breakfast, The Flapjack Hut and Breakwich, as well as a seventh licensed brand MrBeast Burger.
Although primarily focused on delivery, AM Kitchen offers takeout from Scott's Addition through its own online ordering system.
Owner Curtiss Stancil said he was the first tenant to open in the CloudKitchens space. The ghost kitchen chain was created by Uber co-founder Travis Kalanick. An entity related to its parent company bought the Broad Street property last year and renovated it.
CloudKitchens opens shadow kitchens and then rents them out to delivery and takeout-only restaurants. Stancil said he was renting about 500 square feet in the Scott's Addition space. He said he invested around $35,000 to $40,000 to launch his outpost there and the space came with hardware already included.
The Scott's Addition store is open 8 a.m. to 6 p.m. Tuesday through Saturday and 8 a.m. to 3 p.m. Sunday.
The location is the second location for AM Kitchen Co., adding to its original location at 9545 Amberdale Drive, a space that also features a dining area.
The Scott's Addition location replaces AM Kitchen's short-lived stay in the Regency Mall food court. Stancil was forced to move as the area was closed to make way for an upgrade as part of the mall's transition to a mixed-use development.
"Because of the food court closing, we had to find a new location and I wanted something central," Stancil said of the move.
But Stancil isn't done with Henrico County yet. He is interested in a third location and is looking for another AM Kitchen outpost near the Mall, at Short Pump and around Richmond International Airport.
Stancil also plans to try a more traditional restaurant model with the upcoming Honeychild's Juke Joint, which is slated to open in October and will operate as a limited-service restaurant in the evenings in the Chesterfield AM Kitchen Co. space.
AM Kitchen launched in 2020 as a pandemic hub after Stancil's catering company Curtmont Catering saw its business plunge. Now operating as part of AM Kitchen and focused on client businesses, Stancil said Curtmont had rebounded and accounted for about a third of the company's business.