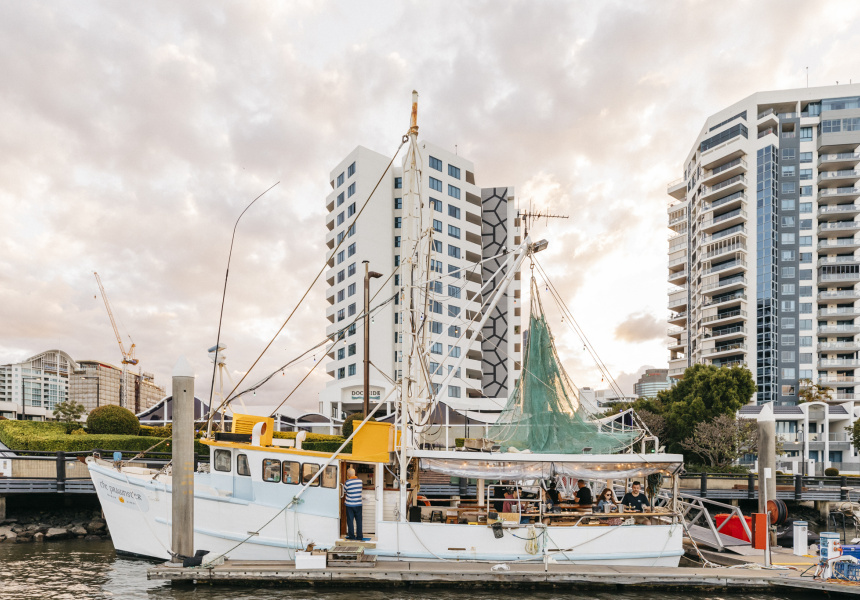 Hugely popular seafood restaurant The Prawnster threatened with eviction
The Prawnster faces eviction from her berth at Dockside Marina unless a meeting on Wednesday between the Queensland Government and Brisbane City Council produces a last-minute stay of execution.
The state government, which is responsible for seabed leases, served the popular seafood restaurant with an eviction notice earlier this month. It was spurred on by a petition from residents, the ABC reports.
Other popular businesses such as Aquarius Charters, Brisvegas Cruises, Brisbane Jet Skis, Goboat and Yot Club are also under threat at Dockside Marina.
Triggering the eviction notice is the use of the residential marina for commercial purposes, although The Prawnster owner Martin Brennan said he had received legal advice that he was not breaching the lease.
"It's absolutely overwhelming," Brennan said. Large format yesterday.
Brennan is frustrated with the turn of events after saying he was initially instructed to moor at the marina by the Queensland Department of Resources and the Brisbane Economic Development Agency (then Brisbane Marketing).
"I spent two years talking with Brisbane Marketing officials," Brennan said. "I've had collaborative discussions with them and with the folks at the Department of Resources, whose job is between them to try to make sure they facilitate business. They knew there was nowhere to go so they introduced us to the owner of the marina [Ken Allsop].
"And at this point, the Department of Resources checked the lease and said, 'Look, we probably need to put the lease away and clarify that the commercial activities can be there,'" Brennan said. "I know at this point they started working with the marina owner to secure the lease. Two years later, it's still not settled and now they're chasing people.
As things stand, Brennan and her fellow operators have until next Friday, March 4 to find new locations or risk having to close.
"At the end of the day, we have nowhere to go – absolutely nowhere to go – on March 4," Brennan said. "And the government knows it.
"I had a conversation with the guy who signed the notice. I said, 'I'm not a troublemaker. I want to abide by your notice…can you tell me where to go? please tell me where I can go. And he was silent. I said, 'You know and I know there's nowhere to go.'
Mayor Adrian Schrinner has taken up the cause of commercial operators.
"Brisbane is a river city, but unless the state bureaucracy is backed down, we risk being a city without any river tourism businesses," Schrinner said in a Facebook post last week. "The government must act urgently to prevent these tour operators from being left in the creek without a paddle."
A spokesman for Resources Minister Scott Stewart told the ABC that a meeting between the Minister and Schrinner would take place "next week". Brennan understands that will be on Wednesday.
"I'm thankful that he weighs in," Brennan said. "It will be really interesting to see what comes out of the meeting…Either they will come to an agreement that we have a way forward for these guys and their families. Or, you know, it will turn into a political game to score points, which won't save any of us.
Brennan was also encouraged by a Change.org petition supporting the operators, which at the time of writing had accumulated over 1100 signatures.
The eviction notice comes after two long years for Australian hospitality businesses to grapple with the pandemic.
"It hurts your business internally," Brennan said. "It hurts your brand and the trust of your customers. I had someone call the other day and they had a dinner party for 50 people. It's big for us. We only seat 70 people.
Still, Brennan is quietly confident that a solution will be found.
"We always buy local produce and intend to continue serving until someone tells us to stop," he said. "I don't know what they can do, practically. I don't know who's coming down to tell me to close my doors. I don't think anyone wants. So we [are] I will keep trying to do as usual until they find the solution.