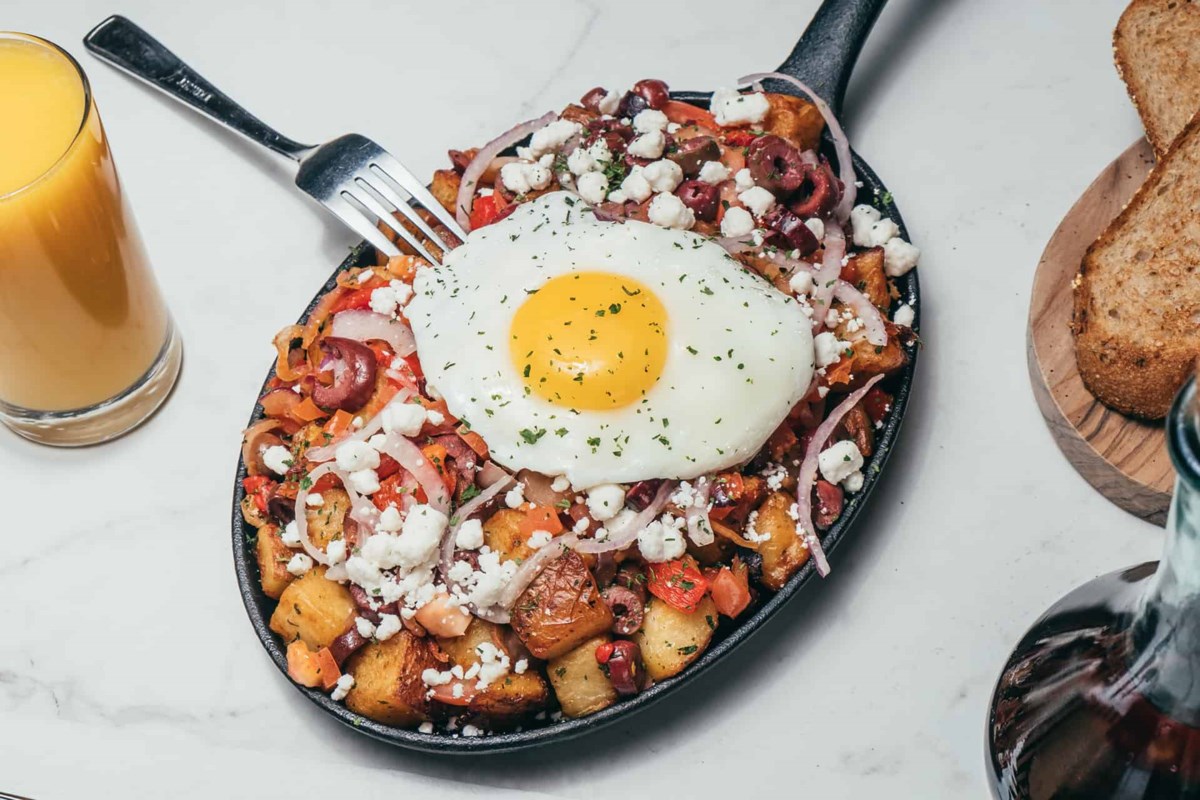 New breakfast restaurant is coming to South Guelph
A new breakfast and lunch spot is coming to Stone Road, offering sausages, eggs, pancakes and burgers.
Pür & Simple is a breakfast and lunch franchise with locations across the country. They have 27 locations across Canada, including one in Waterloo, with more planned.
The Guelph location is set to open Tuesday, June 14 at 370 Stone Rd., the plaza across from the mall anchored by East Side Mario's.
It will be open from 7 a.m. to 3 p.m. seven days a week.
"Guelph is a thriving community, it's a grassroots community, they support people in their community," said Razak Aziz, who co-owns the Guelph location with his wife Allea.
"I think the Pür & Simple brand is an inclusive brand so everyone can enjoy breakfast and I think Guelph is a great opportunity, at least for us, to share our love for food," said Aziz.
He said one of the most popular items on the breakfast menu is Ray's Extravaganza, a hot skillet with bacon, sausage, peppers, onions, cheddar, Swiss cheese and provolone with a sauce. Dutch.
There are also traditional breakfast plates like a menu option called Popular, with two eggs, bacon and sausage.
A more unique item, a breakfast sandwich called cinna-bacon: scrambled eggs, bacon, cheddar, swiss, and provolone in a cinnamon-glazed danish.
There's also a kids' menu that features colorful pancakes and a grilled cheese sandwich.
For drinks, they offer freshly squeezed orange juice, Nespresso coffee, and smoothies.
Along with their breakfast menu, they have an 11:00 lunch menu that includes burgers, wraps, sandwiches, tacos, and salads.
It is a seated restaurant with a capacity of 80 seats inside and 18 outside on their terrace. There is also delivery and take-out.
They hired 40 people.
Aziz said the space is open-concept, bright and inviting. "It's a great way to start your day, like I said, it's bright. It wakes you up before you even have your cup of java.
"I think it's just the pure positivity that we bring, I think it will be infectious and enjoyable for the community."
"Not your typical breakfast spot," Aziz said. "It's something you can't find everywhere and I encourage people to come check it out, try it out. I'd love to hear what they have to say.