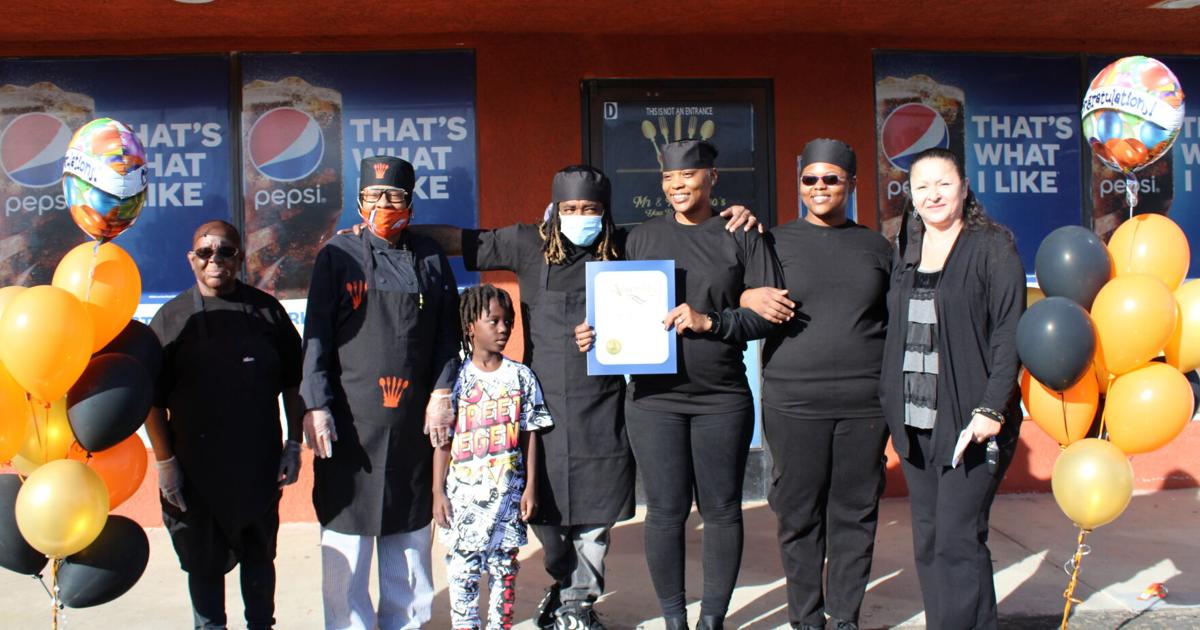 New Creole seafood restaurant opened in Cal City | News
CALIFORNIA CITY — A new startup Creole seafood restaurant opened Feb. 3 with community support, called Mr. and Mrs. Creo's You Buy We Fry.
The restaurant is located in the plaza near California City Blvd and Victory Way, owned and operated by Shelitria Dinkins and her husband Travis Dinkins. Field Representative Anna Zarley of Assemblyman Lackey's office presented the family with a certificate and commended them for their dedication and hard work, especially during difficult times.
"I know some people would give up especially with everything going on," Zarley said.
Dinkins thanked the community and her family for the opportunity, saying she felt grateful and happy.
"It's a thing of God, he opened all the doors. It's not about me and my husband. He made the vehicles for us but it's not just because of us and I know that because we're not rich, we don't have a lot of money. I'm a simple woman who runs a printing shop down the street," Dinkins said.
This printing company, called The Log-Inn Inc., taught her the values ​​of hard work and helped her develop the confidence to start her own restaurant.
Mr. and Mrs. Creo's is truly a family restaurant with several generations behind the Dinkins, including their children serving and driving the deliveries, and the Dinkins mother as the main cook.
"My mother was always the cook for my family, first my grandmother and then my mother, so growing up in a home that cooks like that, you learn and you get a natural knack for things," Dinkins said. . "Working with my daughter is a pleasure because she is becoming an entrepreneur and she wants to learn all these things and be innovative."
Dinkins said when they bought the building they saw the potential, but it was the help from the community that allowed them to open in a year.
"Contractors came in here and helped us with things that were going to cost four or five hundred dollars," Shelitria Dinkins said. "They saw what we were doing and what our struggle was and liked our character and did the jobs for free."
The Dinkins also hope to encourage young people to start their own business or come learn by doing at the restaurant.
"I've talked to my husband about starting to hire young kids or young boys and girls from high school who have top grades and want to be entrepreneurs, so we can give them that game we have," Dinkins said. "It's $1,000,000 if you can sit back, listen, learn, and be patient. There's no manual for this, so we want to be able to pass on what we learn.