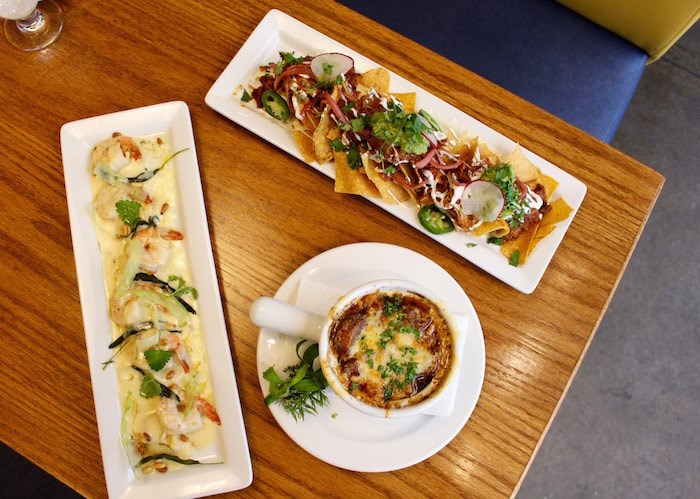 Very Popular Metro Vancouver Breakfast Restaurant Now Serving Dinner (PHOTOS)
[ad_1]
This award-winning New West breakfast spot has undergone some big changes lately, including the launch of a very first dinner menu (with no pancakes or omelets in sight).
For some time now, breakfast lovers in the Metro Vancouver area have flocked to Angelina's in New Westminster. Braving the long waits, diners have become loyal to Angelina's expansive AM menu of hearty dishes, ranging from everything eggy to their signature Dutch cuisine and lovely fresh fruit.
Earlier this year, Angelina's embarked on a major change, starting with a big move from their more modest excavation at Quayside to a larger, brighter space facing the Fraser River at the River Market (in the space left vacant by Wild Rice).
Bigger restaurant means more plates of breakdownkoeken for early risers and midday brunchers, and high expectations for prime time breakfast. But Angelina's has also expanded its offering, ditching the Dutch and adding Happy Hour and dinner menus, along with extended hours.
Angelina's is so well known for its breakfast that even the URL for her own website is breakfastnewwestminster.com. And this month, Angelina's received top honors in all breakfast-related categories at the New Westminster Record Readers' Choice Awards.
So how is Angelina's dinner approaching? The vibe in the renovated space of the River Market Restaurant becomes a bit more adult (although kids are, of course, welcome) with live jazz music on some nights (and pop-rock hits otherwise), candles are lit and the food changes completely.
A new chef was hired to create the dinner menu, with a mandate to keep the restaurant's daily promise – to serve great food made from scratch. Now, late afternoon and night, in Angelina's open kitchen arrive handcrafted comfort classics with global flavors, beautifully plated.
A Happy Hour menu from 3:00 p.m. to 5:00 p.m. features familiar bites and bar appies like mini burgers, poutine, and fries. Our waiter says he swears by the spicy Korean-style wings with a house sauce, while I slipped into the Pulled Pork Tostadas – essentially a cousin of the nachos – with braised pork in a chipotle sauce. orange with a base of cream, fresh guac and marinated onions on thick and crunchy tortilla chips.
Dinner is served from 5 p.m. to closing and includes things like a hearty French onion soup, an Asian-inspired salad, guac with tortilla chips and plantain chips, burgers, and platters and bowls. larger ones including a bowl of tofu rice, fish and chips, steaks and seafood.
A dish like Clam Chowder + Wild Salmon is a bit of a love note for British Columbia, thanks to its sweet Chilliwack corn and fresh seafood, and taking the familiar dockside dish away from its more rustic roots. and cream-focused and letting the flavors of the ocean and summer shine. We are a long way from a huge Dutch pancake filled with whipped cream, fruit and thick Dutch syrup – which is impressive but also a gamble.
With their dinner, Angelina's cleverly slips onto the New West scene and to some extent fills a void that in other communities is typically filled by a restaurant like a Cactus Club, for example, where you can be trustworthy, gently. upscale, accessible and diverse. rate. Neighbors to the River Market focus on niche foods like barbecue, Pan-Asian or vegetarian fare, while other restaurants near the area are split between modern upstarts like Piva and El Santo, pubs and fast casual.
The restaurant says its dinner menu is in its "gradual launch" mode, but it's up and running until 11pm every day. at dinner, you may therefore be able to reserve a seat if you contact them in advance.
Angelina's Dutch Corner is located at 810 Quayside Dr # 122 in New Westminster at the River Market.

[ad_2]
Source link